someone ratted me out. It was only a Gif animation yet had no choice but to delete the file. I received a comment post (which I thought was a threat but now should have realized it was

a

warning). "Watch your back. You pissing off the big boys". It was just after I posted about Adelaide Clemens. At first I thought the person was talking about Hollywood anti-copyright hawks but it was unlikely seeing how my blog is pretty much low in terms of google searches and visitors. It's sad when a person can be so insecure. I'm just a lemonade stand owner compared to this person who is equivalent to a conglomerate but petty rivalry rear its ugly head. It's true. There is no honor among thieves. Expecting more shit-storm to come my way. May need to lay low for a while.
_______________________________________________________
Emily Hampshire

gets naked.....again
Special to The Globe and Mail
It is
Emily Hampshire
's eighth TIFF and – quite possibly – her year. Last seen in David Cronenberg's
Cosmopolis,
the 33-year-old, Montreal-born actor is causing whiplash in Jonas Chernick's
My Awkward Sexual Adventure.
She plays a Toronto stripper, tough and tender and capable of making "scooch" sound like a threat. Oh, and getting unflinchingly naked.
"This is my … fourth film with a nude scene?" says Hampshire, laughing. "I'm pretty much naked in everything." She's no Canadian Paz de la Huerta, though. Hampshire's sweet real-life frankness makes convincing a miscellany of characters, from the bright pixie in
Snow Cake
(2006) to a skeptical law student in
The Trotsky
(2009) to ice-cool Jane Melman in
Cosmopolis.
In her new, ain't-no-lady leading role, she's one to rewatch.
"I've been lucky to find character parts that are leads as well," Hampshire says. "Usually, you get the quirky friend or the one-dimensional heroine, but in [
My Awkward Sexual Adventure
] I do both. I try to play whole, recognizable human beings." Though she now lives in Los Angeles, even admitting to loving it there, Hampshire says such roles are easier to find at home. "In Canada, you do smaller movies that maybe nobody sees, but you get to do bigger, better parts."
Like the doctor she plays in
The Returned,
a Canadian-Spanish zombie movie that begins shooting after TIFF? "I know what it sounds like," she says with a laugh, "but it's a really smart script."
Next, Hampshire wants to write the script herself. "I'd love to make a movie and star in it with all my friends," she says. "I've been acting since I was 14, and back then I wanted to do something huge and be famous. Now I'm glad that didn't happen, because by taking longer, I can do things I really, really want."
* 31-years old Canadian is a former Catholic high-school all-girl alumni. Is it relevant to her propensity to get naked often on-screen? Maybe.
_______________________________________________________
* Upcoming New Releases with Nudity
Stag
Rated R For crude and sexual content, nudity and pervasive language.
Stag, a comedy which stars Faison, Eva Amurri (Californication), and Jon Dore (The Jone Dore Show). Faison plays "the orchestrator of the hazing pranks at all of his buddies' stags – elaborate, hilarious pranks that have left many emotional scars and a few physical ones." The film is set during Faison's bachelor party as he fears retribution from his wronged friends. Stag is the feature debut of writer/director Brett Heard.
* potentially a crappy comedy with one notable exception : super sexy female cast (mostly gorgeous Canadian chicks).
Already a nudity alumnus : Eva Amurri Martino, Mayko Nguyen.
_______________________________________________________
new Channel 4 Mini Series

: LABYRINTH

starring John Hurt (The Dragon, Merlin), Tom Felton (Draco in Harry Potter) and

Kate McGrath

(Morgana, Merlin).
_______________________________________________________
DEATH RACE 3: INFERNO
Trailer
(Look for it on Blu-ray and DVD Early 2013)
* The rumors are swirling around Tanit Phoenix nude shower scene. I hope the boys not confusing her with another South African Tanya van Graan.
_______________________________________________________
'

Kiss of the Damned

' : an Erotic Vampire Flick with Bite!
by Marc Patterson
Sex, vampirism, and a modern film that plays out like a circa 1970s euro sleaze? Yeah, you pretty much had me at "sex". Check this out…
Magnet Releasing, genre arm of Magnolia Pictures, announced today they have acquired world rights to writer/director Xan Cassavetes' Kiss of the Damned, an erotic vampire film that will make its world premiere as the closing night film of International Critics' Week at the Venice Film Festival this Friday September 7th.
Starring Joséphine de La Baume (One Day), Milo Ventimiglia (Rocky Balboa, "Heroes"), Roxane Mesquida (Rubber) and Riley Keough (Jack and Diane, The Runaways), KISS OF THE DAMNED is a DeerJen/Verisimilitude production in association with Bersin Pictures. Produced by Jen Gatien and Alex Orlovsky, executive producers were Adam S. Bersin, Jacob Pechenik, Riaz Tyab and Jon Vinnik. With her narrative feature debut, Xan Cassavetes (Z Channel: A Magnificent Obsession) has crafted a stylish and sensory visual and aural experience that recalls the best of smart and racy European genre films from the 60s and 70s.

Kiss of the Damned is the story of Djuna (Joséphine de La Baume), a beautiful vampire who tries to resist the advances of the handsome, human screenwriter Paulo (Milo Ventimiglia), but eventually gives in to temptation. When her troublemaker sister Mimi (Roxane Mesquida) arrives unexpectedly, Djuna's love story is threatened and the whole vampire community becomes endangered.

"Xan Cassavetes has managed to breathe new life into a tired genre in one of the most original, and frankly hottest horror movies I've seen in a very long time," said Magnet/Magnolia president Eamonn Bowles. "Kiss of the Damned is a smart film with real artistic aspirations that is also incredibly fun to watch."

"It is incredibly gratifying to be working alongside real cinephiles and visionaries," said producers Gatien and Orlovsky. "Magnet is such an exciting company who understand that cinema and entertainment can be synonymous. This is our vision for Kiss of the Damned and we couldn't be happier that they are partners."
Two beautiful French vampire sisters have separately gone to stay at a summer estate - a 'safe house' in Connecticut. A screenwriter begins a love affair with the "good" sister and insists on joining her among the undead. However, after they begin Their life together, the other "bad" sister shows up and begins wreaking havoc almost as soon as she arrives. Slowly, her dark presence Threatens to destroy them all.
----------------------------
"The vampire is a recurring theme not only in the cinema, but rather physiological. A debut as Kiss of the Damned is linked not only a tradition, it shares - so to speak - the" fundamentals ", but as few works and newer points to a critical renewal, ideological and aesthetic canons of the consolidated financial statements. Kiss of the Damned, from the title very programmatic and connotative, it is thus a striking reinterpretation of the genre, which mixes the primary kind of reference, which is the ' horror with eroticism, always underlying businesses nocturnal vampire of all ages, age, and sexual orientation. There is a vision in this film adult metaphorical approach to the figure and condition mainly nocturnal vampire understood as " different "or physiological, biological sci-indeed unhappy lover, where the canonical dark atmospheres found in the expressive practices of subcultures (not in a derogatory sense) music video, video art, the underground, popular cartoon gothic sometimes necessarily" pushed "and itchy, but also on a high floor of the culture of melodrama, a varied terrain and fertile revised. intelligence and charm, the heritage and the update in this film are so inseparable components, in support of an argument that sees the same subcategory vampire rise to synthesis of the society in which opposing forces - on the one hand - integration, conservation and bourgeois normality and - on the other - the transgression wild, destructive and self-destructive. In this work first signed by Xan Cassavetes very eccentric, irreverent daughter of one of the great masters of American cinema nonsystem, John Cassavetes, the kind we are saved so wise by the neo-conservative and forced sentimentality of the Twilight saga. prefer most is the Gothic atmosphere of European origin, especially the upper middle class milieu and Italian aristocrat, rotten and perverted, films of Mario Bava and it looks the same sociological analysis with peaks of provocative intellectualism. "
_______________________________________________________
Lana Del Rey

bares breast in GQ magazine
Lana Del Rey
has been photographed with a man clutching her bare breast in a new photshoot for GQ magazine. The picture shows the singer sat at a table with her right breast exposed, cupped by a man from behind.
(* most likely a 'gay' model IMHO)
Further photos show the star wearing no trousers or underwear - and covering her genitals with a lace curtain. The most bizarre photo of all sees Del Rey laughing in the middle of a crowd of women.

Lana opens up to the magazine about her battle with alcohol addiction at a very young age.

"That's really why I got sent to boarding school aged 14 — to get sober. I was a big drinker at the time. I would drink every day. I would drink alone. I thought the whole concept was so f***ing cool. A great deal of what I wrote on Born To Die is about these wilderness years. A lot of the time when I write about the person that I love, I feel like I'm writing about New York. And when I write about the thing that I've lost I feel like I'm writing about alcohol because that was the first love of my life. Sure, there have been people, but it's really alcohol", Lana explains to GQ.
(* how sad it is to be born into money but still feeling lonely. Turning into attention-seeking whore. Thank God Lana made it on her own without Daddy's help. That's why I'm voting for Romney. Kids from wealthy background suffers the most with all that money being thrown at them and temptation is everywhere. American dream starts at the top and then trickles down.)
The singer, who released debut album 'Born To Die' earlier this year, appears on one of five special covers celebrating the fifteenth annual Men of The Year awards held by the magazine. Del Rey has been awarded the Woman of the Year award by the magazine.
Del Rey has moved increasingly into the world of modelling in recent months, starring in campaigns by both
Jaguar
and
H-and-M
.
Lana Del Rey is set to release a new version of her debut album later in the year, entitled the Paradise Edition. The re-release will include a selection of brand new tracks.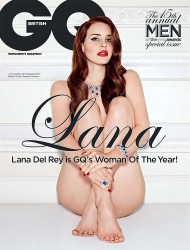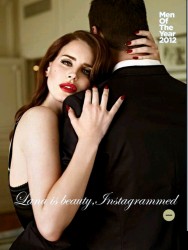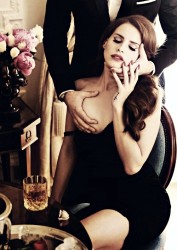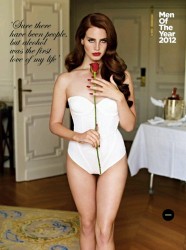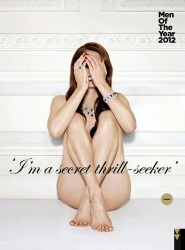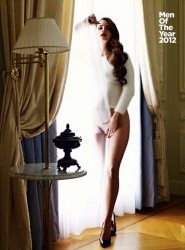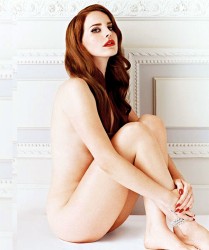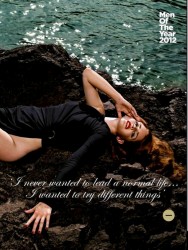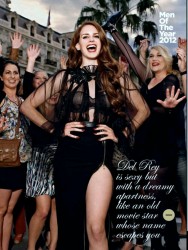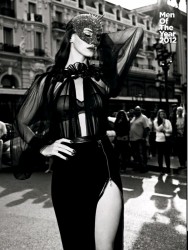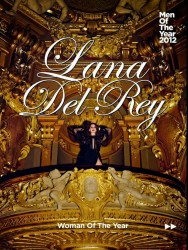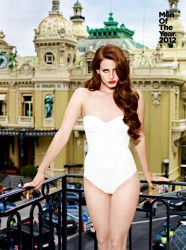 Digital Scans :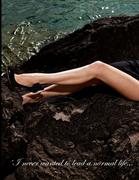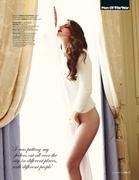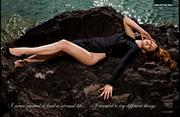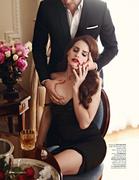 _______________________________________________________
Rambling Beauty Queen
Caite Upton
after Miss USA
Internet sensation overcomes bumbled response to geography question during Miss USA pageant
What has Caite Upton been doing since she was Miss South Carolina?
—
Alexandra Lincoln, Raleigh, N.C.

The former Miss South Carolina Teen USA (2007), 23, who became an Internet sensation for famously rambling when asked a question during the pageant, has turned a negative into a positive.
"It wasn't hard to live down," says Upton, who placed fourth in the pageant. "I have accomplished a lot from it."
Among those accomplishments are participating in "The Amazing Race," on which she finished in third place with ex-boyfriend Brent Horne as a partner; appearing on the MTV series "Ridiculousness"; and sharing her experience in "Speak," a documentary, now on DVD, about the fear of public speaking, which teaches terrified public speakers how to find their voice. "I wanted to take part in it to show people how you can overcome tough situations, how you can make a joke of it, grow from it and I wanted to teach other people, who have been through similar situations," Upton says. "It teaches you lessons in life."
These days, Upton has moved from her Lexington, S.C., hometown to Los Angeles, where she says she is "as busy as the Energizer bunny." One of her latest projects is a show that she and her manager are working on called "Learning Stuff." She says, "It is very similar to what I used to do with Jimmy Kimmel as his correspondent. I get to be myself and I get to be funny [and interact with people]. It is going to be a great show and I really look forward to it."
* feel sorry for Caite. Her name sounds similar to one Kate Upton. Another beauty queen in La La Land and now fond of tats and pot . I give her couple more years before she either hooks up with a jock or a sugar-daddy. Or returns home. Of course I'm rooting for her to follow in the nudesteps of Jena Sims. That way no one will confuse her with Kate again.
_______________________________________________________
'Parks and Recreation'

Gag Reel is Hilarious
This '
Parks and Recreation
' Season 4 gag reel can best be described by star/producer
Amy Poehler
who, in the opening moments of this clip while laughing hysterically, says, "Oh s—, that's funny."
If you're not watching 'Parks and Recreation' we humbly suggest you a) rent Seasons 1-4 on DVD post-haste and, b) make plans to start watching Season 5 (9:30pm on Thursday nights starting September 20th). This gag reel should help convince you.
If you are already watching 'Parks and Recreation,' huzzah! Good for you, you're making excellent life choices so far. We need not sell you on how funny 'Parks and Recreation' is and you're already probably skimming through these words thinking OKenoughIjustwanttoseethisgagreelalready.
And more sympathetic, we could not be. Below please find the 'Parks and Recreation' Season 4 gag reel, which is a very funny thing. It is also slightly raunchy, so turn the volume down or get some headphones or find a job where profanities and sentences like "Is she going to powder her v—–?" are appropriate.
(* that Kadarshian bit just at the end by Chris Pratt is freaking hilarious)
_______________________________________________________
Stella Hudgens One Picture Away From Vanessa Hudgens
This is Vanessa Hudgens' 16-year-old sister
Stella Hudgens
. Given this family's affinity for posing in front of a
mirror
and taking
pictures
of themselves, expect a batch of nudes to be leaked of Stella in 2 years. Considering Stella only has five acting credits to her name and none of them are a big Disney production, that pretty much seems like the only
game
plan right now for hitting it big.
Kate Upton
: Top 10 Facts You Need to Know

10. She Made Her Brief, Cleavage-filled Saturday Night Live Debut in a Skit Alongside Fox News Blowhard Bill O'Reilly.

9. She Was Born in 1992 - WHAT?!
You know what also happened in 1992? Aladdin, Batman Returns, A League Of Their Own, and Reservoir Dogs all came out in theaters and Windows 3.1 was released. She can't even legally drink! Ugh, I feel so old.
8. She Made a Cameo Appearance in The Three Stooges
Kate Upton: Sister Bernice in The Three Stooges
Granted, it's a small role (her clip is played 3 times for a whopping 12 seconds total time) but it's the silver screen! Plus a nun bikini, a nun-kini!
7. Kate Upton Was Really Into Horses
Kate Upton was a pretty accomplished equestrian, her wiki states:
With her horse Roanie Pony, she won three APHA Reserve World Championships — 13 and Under Western Riding, 13 and Under Horsemanship, and 14–18 Western Riding. She was named the 13 and Under Reserve All-Around Champion, giving her a total of four reserve championships (2nd place). In addition, Upton ended up third overall on the APHA youth Top Twenty. With a second horse, Zipped, she won 14–18 Western Riding and was included in the top 5 in 14–18 Horsemanship and 14–18 Western Pleasure in 2009.
Dang. That's a lot of impressive-sounding horse-related stuff. Let's just stick to chuckling at the old photos I dug up instead of pretending to know what any of the above really means, shall we?
6. Kate Upton Went 0-2 With 2 Groundouts in the 2011 Celebrity Softball Game
Poor Kate, she looked pretty derpy out there when she had to swing her bat, but when she just had to hold it? Sexy as ever.
5. Kate Upton Was Stabbed With a Banana by Daniel Tosh
Quote of the Decade - Kate Upton: "That is a sharp banana."
4. Kate Upton Was Just On The Cover of GQ Italy
You're welcome, Heavies.
3. Kate Upton Has Her Own Baseball Card
Not only does Kate Upton have a rookie card that you may be able to retire off of in the far-reaching future, but it also has a piece of her Sports Illustrated Swimsuit Edition Bikini in it! You can frame this card or rip if apart and rub the bit of bikini all over your face. Either is acceptable.
2. Kate Upton Looks Even More Sexy With A Deep Tan
Hot off the Vogue Spain presses, Kate Upton looking absolutely stunning in the strangest bikini I've ever seen (but I ain't complainin')!
1. Skullcandy Headphones Totally Has a Boner For Kate Upton
C'mon Skullcandy, how is anyone else supposed to compete with custom headphones? Don't steal Kate from us! Kate! Kate! We'll give you your own series Kate, please. You want to do an interview? You wanna review fast food for Heavy like that Five Guys dude in the truck? Anything you want Kate name it, just don't go over to those douchers at Skullcandy!
Aerial Nudes: So Much Effort for So Little Clothing
by
If you're wondering whether or not you're looking at an overhead photo of nude woman laying on a plastic tire heap just outside of a cow farm, I'm happy to be of service by telling you that's
exactly
what you're looking at. I don't really know what on earth is going on with these aerial nudes, but I love the mystery behind the shots by photographer John Crawford. How is he up in the air?! Why are all the cows staring at her? How on earth did he come up with all these crazy photo ideas, let alone convince a beautiful woman to get naked and flop around for them?
Aerial Nudes: If You Tell A Hot Lady It's Art, Will She Lay Under You?
here are some sheep because obviously the cow photo didn't make sense
I don't really know the background on these photos. All I really know is that the Crawford went through some serious trouble to get the shots- outside of somehow being what appears to be stories off the ground in places without buildings, most of the situations require some intense set up. Not like "let's move the umbrella over here and tilt the light"- more like, "Okay, I'm going to run out there in front of this speeding train in the middle of the New Zealand countryside then float away magically, and you get naked and lay down on the tracks."
This doesn't really seem like a normal place for a train to stop. I sincerely hope Crawford wore all black, swished his cape, and twiddled his moustache while taking this.
I can only imagine this being taken from a low flying helicopter in a car chase-esque series of events that led to several car accidents from men craning to get a look at the boobies on wheels.
I have no idea what these pavement markings indicate, but I'm taking a wild guess that it isn't 'Nudist X-ing'
I quite enjoy the way that many of the surroundings either (a) look as though they've bent and formed around the woman, and (b) emulate lady bits
See what I'm talking about?
Also, just lay here and I promise the thresher will go around you.
no tracks, no shadows… Crawford is a sneaky sumbitch.
I'm pretty sure the security guards at this construction site just let this one pass.
John Crawfords work is wide ranging, so don't expect only nudes. As a pretty famous photographer in New Zealand, he's worked for several large campaigns and is quite well known.
Check out the rest of his work at his website.

This is India..........